After converting a Physical server to a VM, I got a lot of Application Errors 1000.
Looking at the details it was relating to, amongst others, HP related drivers and software
Example : This error shows it is trying to reach a Tape device which is not present in a VM…
SOLUTION :
First uninstall all hardware drivers that are not needed in the new VM.
1. Open CMD with admin privileges and run this command




set devmgr_show_nonpresent_devices=1




2. Next run this command
And go to VIEW, select SHOW HIDDEN DEVICES
3. Make backup of your VM
Before going to next step MAKE SURE you have a good backup of the current SYSTEM STATE
4. Expanded list
Look at all the GREYED out devices and UNINSTALL these Software and Drives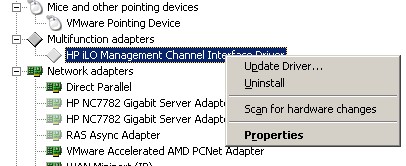 5. Uninstall COM Objects
From the Event Viewer Error I could see we where dealing with a COM related DLL
Use WBEMTest.exe to investigate if the COM Object is still in use.
In my case I was sure it would not be needed since the HW was not available anymore
Look for the COM DLL : HPWMITape.dll
Run the uninstall command :




regsvr32 /u HPWMITape.dll




Enjoy !